TRICIA FUGLESTAD
Introducing Ian-ization and Teacher Anita Tuneup
I started creating mock ups this week of the characters I want to include in the P.E.T.E.R. O'Meter book.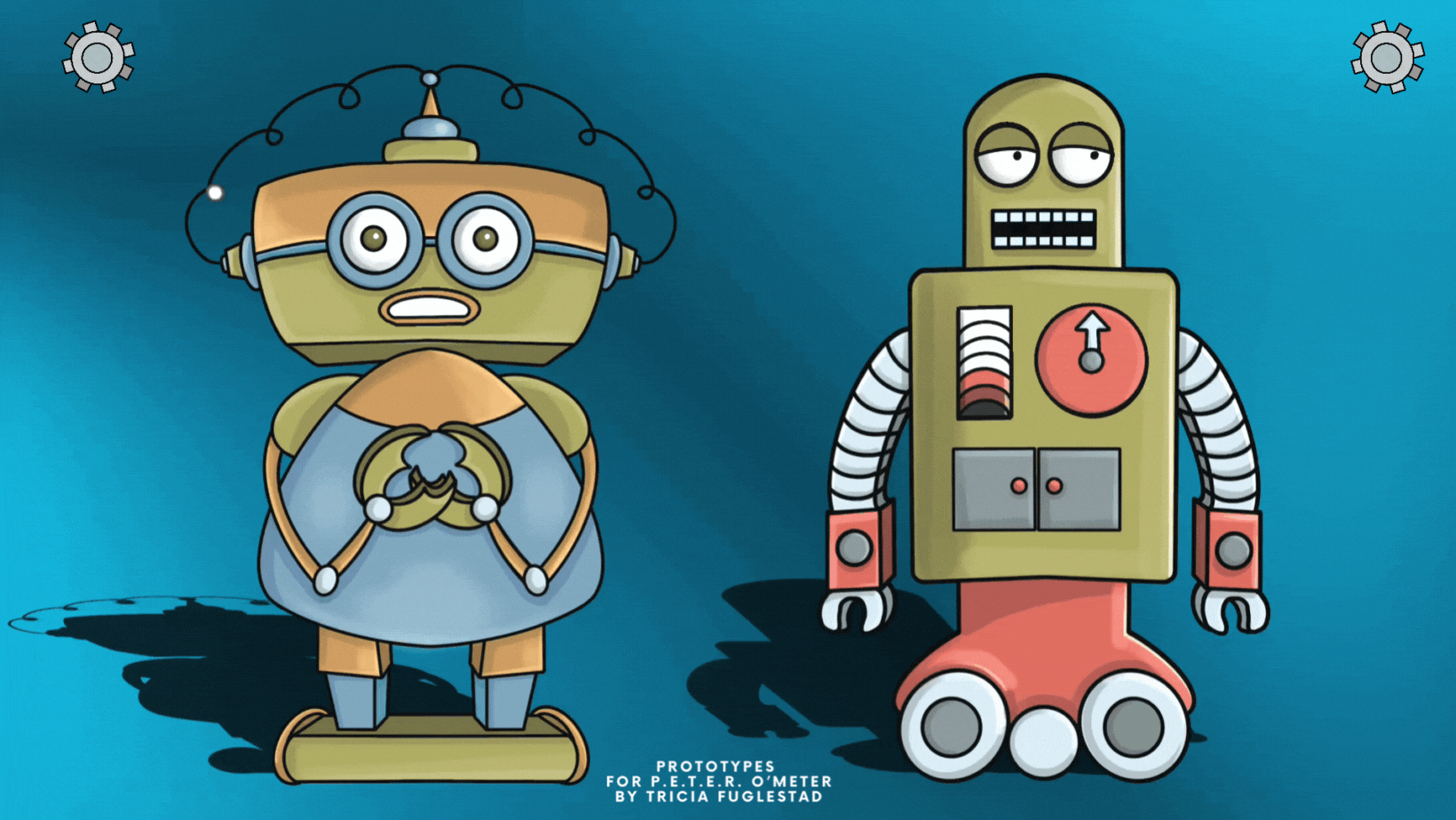 Wanna see a couple of them?
Ian-iZation
Ian-ization might appear polished up and put together with an over the top confident smile, but inside he has some misaligned gears and over tightened springs that can trigger an outburst at anytime.
Ian's design was inspired by my student's light up robot. (see that lesson here). I had used his design to teach other group of 5th grade students how to make a robot and make it move with digital animation . (I have a similar lesson available that goes through all these steps here.
Teacher Anita Tuneup
Teacher Anita Tuneup is a design I've played with for many years. Here is here original animation
Anita was originally created as an example for my light up robot lesson. Students were asked to create a robot with color balance using 3 colors, show depth by making it look 3D, and light it up somewhere with a LED light, battery, and copper wire. (The packaged up lesson is available here.)
I was contacted by An independent movie producer in California who had created a movie about robots. He asked if I could donate a robot painting as a reward for donors in his go fund me campaign. He had liked this design so I made him one to give away. Before I sent it off, I created an animation and set it up with augmented reality.
ABout the color scheme
The story of P.E.T.E.R. o'Meter is about a robot who experiences emotions when his buttons are pushed. The other robots that he interacts with are not eMotion Bots (yet-stay tuned for the series...). I wanted to use a muted color palette as a metaphor for living with dulled senses. PETER will be leading us through an interactive colorful vibrant journey through his emotions during the story assisted by animation, audio, and augmented reality too.