TRICIA FUGLESTAD
Make it Move it Magic (part 3)
Let's finish talking about these amazing lessons
Use my step by step guide to make an animated ghost rise from the surface of the iPad using a sheet of plastic and the do ink animation and drawing app. Explore holographic effects, reflection, rotation, prisms & flip book style animation. Some teachers have made variations of this lesson on chromebooks using scratch to create and code an animation. view this post.
This lesson teaches students how to create a cityscape in one-point perspective with my step by step guide using a vanishing point and converging lines. Once they learn the rules of this kind of drawing, they can create convincing buildings, streets markings, windows and architectural details. We used UV paint and black light flashlights to make it glow! See the gallery of finished work from my 5th graders here.
Take your students on a journey in search of friendship, connection, & inclusion as they recreate a scene from Peter H. Reynolds' book, I'm Here by riding their own paper airplane over their own animated clouds using do ink Green screen app. All the steps and resources from this SEL + Tech +Art lesson are included.
my guide shows you how to create stop motion animation stations with dewey iPad stands, green display boards, the Do Ink Green Screen app on iPads, and buttons with descriptions of roles students can take on as they work collaboratively. We layered our animations over painting of figures that demonstrated movement. See that lesson here.
This guide has all the steps for creating a kindness message, filming with green screen, the graphic design, & augmented reality needed to make a message come to life (ala HARRY POTTER) from the wall with Do Ink and Eyejack app. It's a magical way to communicate kindness to a school community or beyond.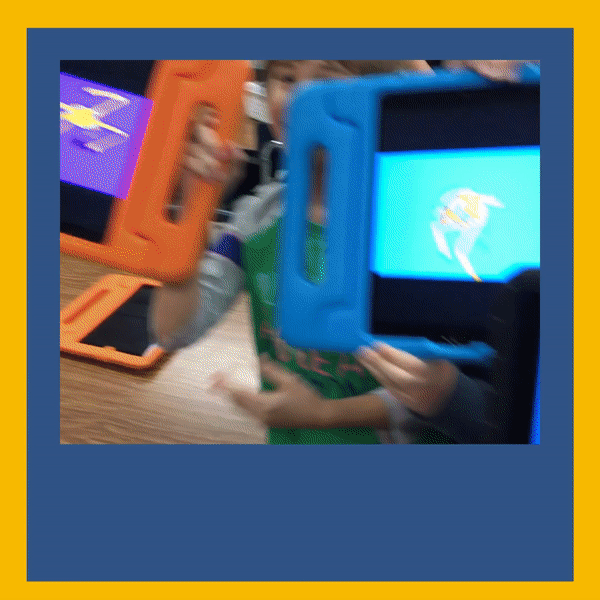 Learn the mystery of making a giraffe dance under glowing (UV Paint) stars (based on the book, Giraffes Can't Dance) and begin a #GiraffesCAN campaign to encourage students to try. Then, have an animated dance party using Do ink Green Screen app. all of these steps and drawing, painting, and animating resources are included in this lesson.
Use this interactive graphic to click on any image to learn more.